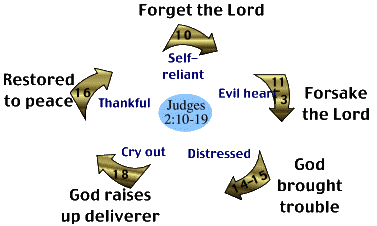 By Edward F. Lundwall, Jr. Retired Army Chaplain, in collaboration with Hope Ellen Rapson, English Faculty
When a convict leaves prison, unless he understands the levels of his release, he will live in uncertainty. Until he experiences full forgiveness, he still lives with some kind of guilt and/or shame. If he is given the status of a parolee, he is still bound to some degree of punishment and loss of privilege. He cannot yet experience full forgiveness or freedom. Only if and when he can restore or completely pay the cost of his crimes can he be considered truly forgiven, and only then can he feel forgiven, enjoy being free from prison, and receive the acceptance and comforts found in society.
In a similar way, the Old Testament clearly records the difference that forgiveness makes when Israel repented of their waywardness and received forgiveness again and again. The book of Judges illustrates a cycle of faithfulness to God, a falling away from God, an acceptance of idolatry and a lifestyle of sin, punishment by way of the consequences of that idolatry and sin, a repentance or turning back to God for forgiveness, a restoration of worship of God, and the blessings of fellowship with God that result. The many prophetic writings in the Old Testament are calls to repentance and revival and restoration as the nation of Israel continues to follow this same cyclical pattern, always turning away from faith and then coming back to faithfulness. Isaiah 40:1, 2 well describes the blessedness of being fully forgiven:
"Comfort, O comfort My people," says your God.
Speak kindly to Jerusalem;
And call out to her, that her warfare has ended,
That her iniquity has been removed,
That she has received of the LORD'S hand
Double for all her sins."
In the New Testament, the parable of the prodigal son best illustrates the blessedness of full forgiveness (Luke 15:11-32). He was restored to the positional and legal place of being a son, after rejection that position, and taking his legal inheritance early, precluding any further attachment to either his father and family or future possibility of inheritance. Yet when he truly repents, willing to simply be a hired servant to those he had rejected, he finds the gracious forgiveness of his father. First comes the embrace of the loving, accepting father; then the clothes and sandals of family privilege are given to him. Finally, the ring signifying the restoration of his full legal rights position and inheritance of in the family is bestowed. What amazement and humility this young man must have sensed, he knew that he was loved, his sin was forgiven, and he was fully restored to the place he had once rejected. Indeed, he was fully free to enjoy himself and celebrate with his friends and family.
In both the Old Testament and the New Testament, salvation is a continuous process of repentance, forgiveness, and restoration in the state of one's relationship with God. The effects and application of salvation are described in three tenses through scripture. The past tense of salvation focusing on forgiveness of the penalty of sin. The present tense of salvation has to do with overcoming sin as a practice. Finally, the future tense of salvation refers to the complete separation from sin when individuals pass into eternity. The grammatical basis of "being saved," therefore, indicates an ongoing or interaction within the relationship God and the sinner.
This "grammar of salvation" has deep ramifications when considering the evangelistic approach, that once a person has prayed the "Sinner's Prayer," he is then automatically and permanently "saved." It may be that individual's start on his spiritual journey, but unless that person continues traveling through his life as a "disciple," a learner, it is simply a vain religious practice. In Jesus' Parable of the Sower (Matthew 13:3-9) indicates that the relationship of receptivity to the ministry of God's Word changes one's character and the level of forgiveness and reward which one experiences in his/her relationship with God. To be blessed with full forgiveness is dependent upon the degree of faith and obedience that actually occurs within the fellowship of others who are professing Christ and practicing his teachings.
One must ask oneself, "Am I still living like a prisoner…with the guilt and punishment of my sin? Or have I moved on in my journey with God, to experience consistent repentance, renewal and restoration of my attitudes and actions in accordance to the teaching of the Holy Scriptures? Am I finding acceptance and comfort in a community of those to love, trust, and obey Him feeling fully forgiven? Am I experiencing the past and present of salvation in Christ? Am I a distinctive disciple who is looking forward to eternal salvation?"